The 5 Best Reasons to Get a Screened Porch
Posted December 9, 2019 to Before You Buy: Tips, Advice, Checklists.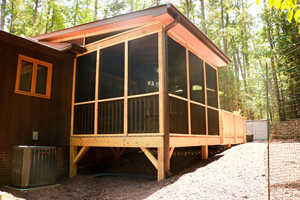 It's really tough to choose our favorite type of project that we do at Sierra Structures, but if we had to choose, screened-in porches on single family homes would be high on the list. These are also at the top of our customers' wish list. What's not to love about an extra room?
Here are the top five benefits of adding a screened-in porch to a home:
Added living space: A screened-in porch can function as added living space to a home. With advances in technology and outdoor furniture to rival the nicest indoor stuff you'll see, screened-in porches can be pretty amazing these days. TVs, cushy seating areas, fire features...it's the best way we can think of to add living space to a home without major construction issues.

Bug protection: Nothing ruins dining al fresco like spending most of the meal swatting flies away. Or wanting to sit outside and read a good book on a spring day and then finding yourself among bees. A screened porch allows homeowners to enjoy the fresh air without worrying about bugs.

Weather protection: Remember when it hit 100 degrees in Raleigh in October? Or icicles in March? Screened-in porches provide homeowners some protection from the crazy North Carolina weather while still letting them enjoy time in the fresh air.

Higher home value: As we mentioned before, screened-in porches serve as added living space for homes. This translates to higher property values. While not the same as actual square footage under AC, a well-built screened porch is seen as a value-adding structure to homes.

Added interest: Many homes are built to be pretty flat and one-dimensional on the back. It's up to owners to enhance the outdoor living areas. A screened porch is one of the best ways to do so by immediately adding depth and a focal point to a backyard.
There are so many benefits to a screened-in porch. If curious about adding a screened-in porch to your home in the Raleigh area, contact us for a quote.