All About Different Types of Railings
Posted May 24, 2021 to Before You Buy: Tips, Advice, Checklists.
Whenever there is a raised patio deck that requires going down steps to reach the yard, there's always one safety requirement for climbing up and down that staircase: a railing. However, railings aren't just for stairs, homeowners can also use them at the edge of patio decks to keep people and animals from slipping off.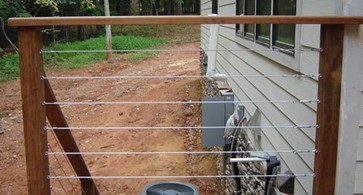 A typical railing is made up of four general parts. These include the top railing, bottom railing, newel posts, and balusters. While safety is a railing's practical function, at Sierra Structures, we can also build them with aesthetics in mind as well.
This is why we're here to talk about the different types of railing options for your home's exterior:
Let's begin with staircases. One requirement you should insist on of outdoor railings is that they be continuous and without interruption from one end to the other. What that means is there cannot be any posts caps that stick up and prevent a person from keeping a hand on the top railing for the entire climb. As for the design, one can choose all wood, all metal, or a design that we particularly like—one with a wood rail and posts, but has a baluster connected with multiple cables that run underneath the wood and through each post like in the photo below. In addition, we also custom build railings made of wood and metal. Click here to see some of our work.
As for deck railings, we recommend determining what view you are aiming for before deciding on what to choose. If the view beyond the deck is the most attractive item outside, then opt for a railing with balusters that are as transparent as possible. This means less of a thicker wood and more cables, spaced out metals, or even a clear plastic beneath the rail top. If you do choose to go with all wood, one way to improve the appearance is to paint or stain the top and bottom railings and posts a different color than the balusters.
If you have any railing questions, we'll be glad to help and to customize a design for you. To get started, contact us today!