All About Fence and Deck Staining
Posted February 18, 2022 to Before You Buy: Tips, Advice, Checklists.
Depending on your viewpoint, staining a wooden fence or deck may sound simple or imposing. The truth is that it usually lies somewhere in between. With a few tip and tricks from your friends at Sierra Structures, you can learn all you need to know about fence and deck staining.
If you plan on staining either one yourself, here is the first step you must follow—inspect the structure. Walk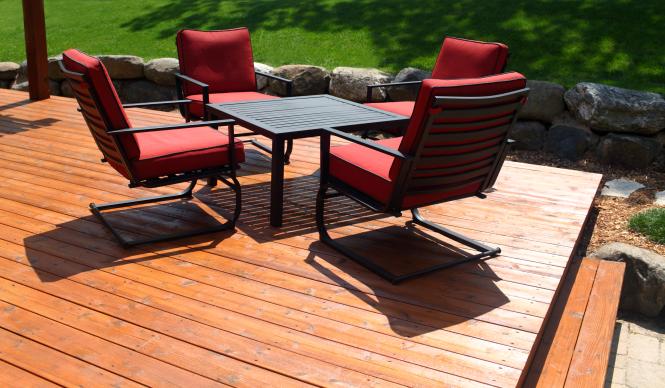 around and look for broken screws or nails, warped or broken pieces of wood, and any other objects on the surface. It might be necessary to repair or replace any broken or missing objects before actually applying the stain.
The next step is just as important as the first one. You must clean the fence or deck thoroughly. This is necessary to allow the stain to soak in and properly cure. Use a pressure washer or a deck brush and cleaning solution, and then allow the wood to completely dry before applying the stain.
By this point, you should have your stain color picked out. We recommend testing the color in a small and inconspicuous area to make sure it looks good before doing the entire structure. If you are planning on applying two coats, do so in your test stage.
When you're ready to stain the entire fence or deck, use painter's tape to cover any surface you don't want stained and cover nearby plants or other objects for their protection. Apply the stain with a roller brush or a sprayer to lay down a steady coat. Repeat for a second coat when necessary.
Remember to take your time when staining. Rushing the job could lead to a less-than-stellar appearance. Make sure your deck is completely dry before placing any items like furniture or grills back on it. For your fence, don't hang anything on it until it's had at least 24 hours to dry.
Then you're finished! Have fun and take pride in your work. A well-stained deck or fence is something you will be able to enjoy for years to come. For more tips, or to get an estimate on your next fence or deck, contact us at Sierra Structures. We are local hometown fence and deck contractors.