Four Types of Back Deck Railings
Posted September 28, 2018 to Before You Buy: Tips, Advice, Checklists.
Back deck railings can completely transform a backyard living space. While safety is the main concern, it is also important to pick a railing material that fits an individual's personal needs. These types of railings range in price, durability, aesthetics and much more.
Here are four types of deck railings: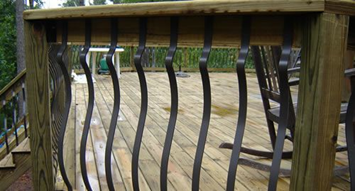 Wood:

Wood railings are the standard type of railings. Homeowners choose wood because of the affordability and uniformity with the rest of their deck. However, wood railings do require more maintenance such as staining or sanding and may not last as long compared to other types. Nevertheless, wood is a great option for many houses due to it being a cheaper option while also being very customizable to any homeowner's preferences.

Aluminum

:

Aluminum deck railings are gaining popularity as they are extremely durable with low maintenance required. It is a great option for coastal homeowners as aluminum does not rust in areas with saltwater. Aluminum railings are very affordable, however they do not provide much customization.

Vinyl:

Many individuals are drawn to vinyl railings as they are an extremely low maintenance and cost efficient choice. They are very easy to clean and are resistant to UV damage. Vinyl railing may not fit in with older homes as the style may look too new. There is also a limited amount of color options available.

Cable:

Cable railings are a great option to use for backyards with any type of view. The rails are very thin which allows for unobstructed views of a property. These railings also offer more versatility as they can be installed with posts of any material. This lets homeowners customize their back deck to their liking and allows them to stay within their budget.
With all of the different options, it is important to find a back deck railing type that fits your personal preferences. Sierra Structures has expertly built deck railings for many residences throughout the Triangle. Contact us to get assistance on choosing the perfect back deck railing for your home, or get a free railing estimate here.