Home Design Highlights: Pergolas and Arbors
Posted December 8, 2019 to Before You Buy: Tips, Advice, Checklists.
Making a Raleigh home stand out is well within reach when a homeowner considers adding an arbor or a pergola to his or her home! Both structures can help a home's yard stand out because they add height to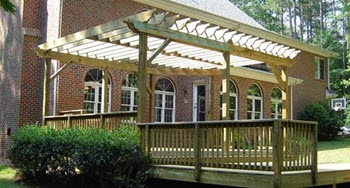 the space, can help define areas and add character to a yard.
Our team at Sierra Structures suggests both structures for a Raleigh home because they are not only appealing visually, but they also have a lot of practical use. Both arbors and pergolas do a great job at protecting homeowners and their guests from the direct sunlight, as the homeowner can customize the amount of shading the structure provides when planning the size, space and location of the structure.
Why Choose Sierra Structures to Install an Arbor or Pergola?
Arbor: Arbors are typically set in a garden or in the backyard and further away from the home. If a family spends more time in their yard or garden, an arbor is a good fit for the home.
Pergola: Pergolas are typically set against a house or a brick paver or concrete patio. For families who enjoy using their patio or enjoying dining outside, we suggest adding a pergola.
Arbors and pergolas are great options to add character to a yard, and our team is here to help homeowners plan what will best serve their needs. When working with Sierra Structures, homeowners know they are getting the highest quality work and service possible, and they can rest assured knowing our team works to comply with HOA guidelines and city or county codes, ensuring the work is done right the first time.
Ready to make your home's yard stand out? We're ready to help! Contact the Sierra Structures team today to get a free estimate and to talk with a professional about what kind of structure will best suit your needs and look best on your property.