How Investing in a Deck or a Fence Increases the Value of Your Property
Posted June 14, 2021 to Before You Buy: Tips, Advice, Checklists.
Adding a new deck or a fence to your home is always a great investment. Not only does it add value in the current moment, but it also increases the financial value of your property when looking to sell the home in the future. At Sierra Structures, we believe that a deck or fence will help bring value to your property and can make all the difference in someone's home.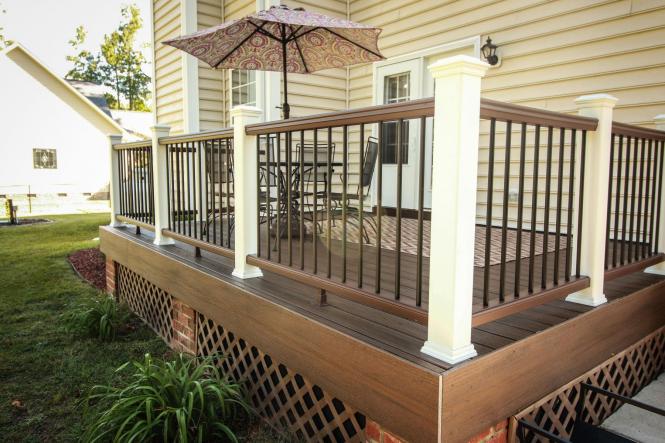 Decks:
Financial:

Adding a deck can increase the resale value of your home. While the entire cost of the deck might not be made up in the resale, a big portion will be. For a composite, mid-range deck, it has been found that there is about a

65.2%

cost vs. value ratio, while a mid-range wooden deck has a

71.5%

cost vs. value ratio.

Entertainment:

Since the reasons for adding on a deck aren't purely financial, building a deck also creates a designated space to hang out in and relax with friends and family. Having that specific location can allow homeowners to entertain with ease without having to worry about hosting everyone inside. Decks are also elevated so it allows for a slight breeze, which is especially nice during those hot, summer days around the Triangle.
Fences:
Financial:

Just like a deck, fences can increase the financial value of a property. The value that a fence brings is based on the type and quality of the fence like wire fencing vs. wrought iron fencing. Much like decking, higher quality brings a higher value for investments in the long run.

Security and safety:

Adding a fence to a backyard adds a lot more than just financial value. If there are kids or animals running around the backyard, a fence brings the comfort of knowing they are safe and not roaming off the property. Fences also add a security feature to any space by keeping unwanted people or animals out of the area. For homeowners and potential buyers alike, these are all features individuals would want in a home.
Looking to for a summer, outdoor addition to your home the Triangle area? Contact Sierra Structures today to get started on the building process.