Three Tips for Adding an Exterior Home Addition on a Budget
Posted June 12, 2020 to Before You Buy: Tips, Advice, Checklists.
We're getting so many questions about exterior home additions lately - more specifically, how to do them on a budget. With so many of us spending more time at home, it's natural to want a little more space to spread out, but it can take a hit to a family's budget.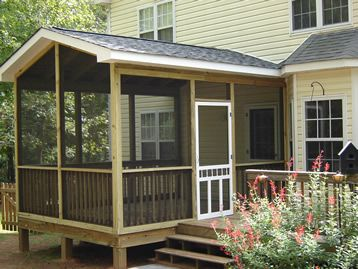 Here are some thoughts to keep in mind when creating outdoor additions on a budget:
Set a budget:

Check the finances and know what is realistic for the family. Be honest with the builder about the budget so they can offer options that will work for you.

Set goals:

What does one want out of the addition? Is one looking for a space to grill? A place to entertain? A quiet space for loved ones to retreat? Put away all the magazines and log off Pinterest for a minute and make a list of how you want to use the space and what is truly needed. Then maybe add some extras. The internet can get projects spiraling out of control, but we find it's best to take a step back from all that noise and focus on the home and how one plans on using it before adding in features.

Spend on structure:

It's easy to fall in love with the fun sparkly parts like a blinged-out chandelier or the coolest grill ever seen, but we recommend that our clients spend more on the structural aspects that don't change often, than the 'prettier' fun things one can add in. Quality materials, an upgraded railing or custom built in planter will add that high-class look better than the temporary bling. That can always come later at a price point where it's easy to switch out with trends.
Spring and summer in Raleigh is the time to be outside and a custom outdoor addition is the way to maximize a back yard. Contact Sierra Structures to get started on your exterior addition!