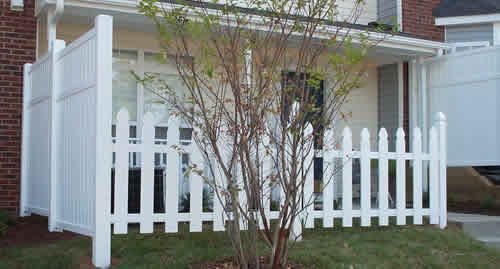 Vinyl fences look good and are almost maintenance free.

Vinyl fences always stand out from the street. They look good and maintain their new look through all kinds of bad weather and over many years. You will never have to paint or stain them. Just get them power washed when you wash the outside of your house. So if they are so great why doesn't everybody get them? They are about double the price of a comparable wood fence. If you want the country club look you can have it...but country club prices are always more.
Sierra Structures will work hand in hand with you and your homeowner's association to ensure you get a beautiful fence which complies with your HOA's guidelines. We help you through the submission and approval process and can provide drawings, photos and other documentation needed to get your project approved quickly.
Sierra Structures has long been on the forefront of fence installation methods, we set the benchmark in the industry with a number of innovative techniques. We are committed to quality fencing solutions. We can also help you extend the life of your new fence through the professional application of any of a number of fence coatings and stains.
Sierra Structures has materials in stock and the expertise to get your fence built quickly and hassle free. And, unlike some other contractors, we will start the job on time won't leave until it's completed top your satisfaction. Our contract prices are fixed so you won't have unexpected charges at the end of the job and you won't pay the final invoice until you are satisfied.
Call today and see why thousands of Raleigh/Durham homeowners love Sierra Structures!
More information on Vinyl Fencing: