2021 Back Deck Trends - What's Hot? vs. What's Not?
Posted March 2, 2021 to Before You Buy: Tips, Advice, Checklists.
With the extra time spent at home this year, it is the perfect time to start building the backyard that you have always dreamt of, and that all starts with the perfect back deck. Since the deck is the centerpiece of every backyard, it is important to put in some planning of what you are looking for. Sierra Structures shares 2021 trends and what homebuyers are currently looking for when it comes to their back decks.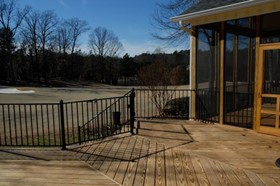 Here are three back deck trends that are definitely "hot" in 2021:
Room for gathering:

Because of the pandemic, many homeowners are moving their gatherings outside to provide more safety for all individuals. However, this creates a large demand for outdoor seating. Whether it is a bench system or entertainment area, a space to host guests outdoors is crucial during these times.

Staycation investments:

Since many people are unable to travel, they rely on their backyard to be their perfect oasis. This idea is different from person to person. Although, most choose to add those upgrades they have been putting off. This can be anything from better lighting to new railings, just so the deck feels more like a haven for homeowners to come home to and be able to relax.

Multi-level decks:

You heard it here first - Multi-level decks will be trending this year. Because they offer way more space to host guests or more room for relaxation, they are the perfect addition for any home that wants to extend their living space outdoors. There are many kinds of plans for these decks depending on how much the homeowner wants to spend and their current backyard situation.
You don't want your back deck to be included in the "not" category. By not getting the needed upgrades for your deck, you aren't maximizing the total space available. Start transforming your deck today with Sierra Structures. Our experts know all about the current trends and can get your area looking "hot" in no time! Contact us today for more information.