3 Outdoor Combo Additions for Any Homeowner
Posted September 7, 2020 to Before You Buy: Tips, Advice, Checklists.
As individuals are spending more of their time at home, it is important to have a space that they love. At Sierra Structures, we know the value of creating an outdoor area that homeowners are able to enjoy for years to come. There are many different home additions that can be combined together to build a dream outdoor living space.
Here are 3 different combo home additions that work for any homeowner: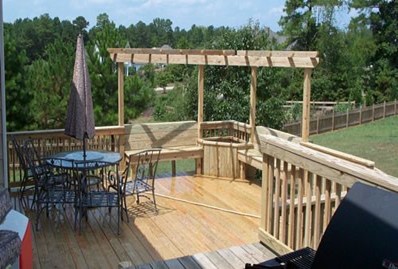 Decks and pergolas:

Decks are known as a great addition to any house; however, many individuals are not aware of the value that pergolas bring. Pergolas are often built over a deck and provide shade for homeowners. They allow for outdoor spaces to be more defined without taking up too much room. Pergolas are also very beautiful structures that are able to boost a home's curb appeal.

Benches and planters:

Adding benches and planters to a deck or backyard area allows for homeowners to accessorize their living space. With the additional seating, individuals are able to create more space for friends and family to enjoy. Deck planters are a great option when combined with benches. They decorate the space while also bringing life to a

back deck. There are many different choices when designing benches and planters, including

corner benches or planters, benches around a fireplace area, benches along the outer rim of the deck, and planters on different levels

.

The multitude of options allows homeowners to design a space that exactly suits their preferences.

Fences and gates:

When adding fencing to their backyard, many people choose to include a gate or operator. Gate operators are very useful

devices that allow homeowners to open or close a gate without having to get out of their vehicle.

These gate operators can also run on solar power, which is a great eco-friendly option.

With a custom fencing project, gates and operators are a great addition to any home.
When choosing any type of outdoor home addition, homeowners can place their trust in Sierra Structures to guide them through the process from start to completion. To discuss adding any of these combo additions to your home, contact Sierra Structures for a free estimate.